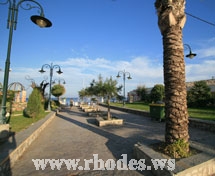 If summer holidays means beach, fun and great nightlife, then this village is definitely for you !
Frequently compared with other Mediteranean party holidays resorts like Agia Napa and Magaluf, Faliraki is the primary beach holidays resort of the Rhodes Island. Faliraki lies on the northeastern coast, about 14 km south of Rhodes Town and boasts hotels of any range, from cosmopolitan ones to small and family owned, as self catered apartments and rooms to let. Faliraki has them all.
The beach at Faliraki is undoubtedly one of the best in the whole island, sandy, 4 km long, extending on the whole length of the resort. There are five bays near Faliraki to satisfy your most demanding tastes -
1. the picturesque Kathara, with sandy shore and step rocks, especially popular for its nudist beach, just a short work from the square
2. Ladiko, the bay of Anthony Quinn with the beautiful fortress of Erimokastro famous from "The Guns of Navarone" movie, up the hill to south Rhodes, and then take a left
3. the bay of Kallithea, to the north of the Island, you will the bay on your right hand side
4. the pebbly Traganou beach, a beach left to their natural beauty, do not miss this beach.

Choose from a wide selection of water sport activities at your next Faliraki Holidays, you can find everything from water-skiing to pedaloes, windsurfing and much more at the beach in Faliraki.
For a true drop of adrenaline, go for a gliding over Rhodes city by night.
Why not trying scuba diving for the first time at your next Faliraki Holidays ?
And that's not all - in Faliraki there is also one of the world's largest water parks, a must-visit for children of all ages for your next Holidays in Rhodes Island.
Still, if you rather enjoy the relaxing activities on your Holidays in Rhodes Island, there's a 18 hole golf course just a short taxi drive away from Faliraki, in the Afandou village.
You can also take an East Coast cruise, pay a visit to the Island of Symi, or go further in a Turkey excursion.
When it comes to the nightlife, the only rival of Faliraki in the whole island is Rhodes city, up the coast.
If you look for a certain style at your Holidays in Faliraki, you sure have where to choose from - karaoke, British and Irish pubs, sports bars, discos. Sure, you find few quieter bars too, but generally, places are noisy and there is a lot of dancing on the beach of Faliraki too.
At the end of such a party in Faliraki, you can pick a snack-bar on the beach, buy a souvlaki, and while watching the sunrise you will realize this is one of your best holiday ever.
When it comes about food in Faliraki, there are more than 60 tavernas to choose from, with different flavors -
1. Greek traditional,
2. Chinese,
3. international or
4. Italian food.
As for souvenirs, you will know that shops are open late in Faliraki and you can buy anything you could possibly imagine. You can go for handicrafts, or proceed a real shopping-session in the mall at Faliraki Bay North.
Everything in Faliraki competes to offer you all the best ingredients for unforgettable Rhodes Holidays!
Looking for fun at your Holidays ? Faliraki offers everything you need for your Holidays; no matter if your young and looking for party all night, if your are family with small childen, or if your elder and looking for relaxing.
Come to Faliraki and have the Holidays of your life.