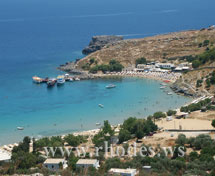 2006 turned out to be a particularly successful year for the tourism of Rhodes, as it raised 13%, creating obvious optimism for the forthcoming tourist season of 2007. During the months of July and August the complement of the big hotel complexes approached 100%, despite the fact that charter flights to Rhodes were decreased. Even in September, a month when those percantages traditionally decrease compared to those of July and August, hotel complement was maintained to rather high levels, due to various conferences that took place.
...|

Jet2.com hits the Rhodes from Manchester 

Jet2.com is giving the North West\'s sun seekers even more choice when it comes to their summer holiday destination for 2009, with the launch of a brand new route to the sizzling Greek Island of Rhodes, direct from Manchester.
Flights to the popular holiday hot spot, which will depart weekly from 20th May 2009, are on sale today with fares starting form just £68.99 each way including taxes.
A favourite with sun worshippers and family holiday makers, Rhodes is home to one of the seven wonders o...|