FALIRAKI WATER PARK Rhodes Island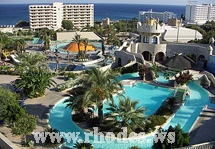 Any discussion about the Rhodos island of Greece is incomplete without talking about Faliraki. The magical place bounded with hills show a marvelous view of Aegean Sea. It is indeed the best ever tourist place in Rhodos. More than 5 km wide, Faliraki beach offers 24 hours of continuous entertainment.

The main attraction of Faliraki lies in its water park. Faliraki Water Park is amongst the biggest water parks of Europe. Its strategic location makes it easily accessible from all the surrounding areas of the Rhodos. The water park is filled with a bundle of enthralling and fun activities including stunning rides, water slides and many more.

Fun attractions:

The park is equipped with a number of fun attractions that draw thousands of visitors every year from the various parts of the world. Both adults and kids can equally enjoy here but attractions are described separately for adults and kids as it is not safe for every kid to experience the adult rides.

· For adults:

Faliraki Water Park provides the adults with so much fun opportunities that enable them to experience the best time of their life. There are three categories which have adventurous fun options. These are Thrill Rides, Multi Rides and Take It Easy. All of these are filled with activities that really pump out the adrenaline level. These activities includes turbo slide, kamikaze, freefall, space bowl, twister slide, rafting slide, multi slide, black hole, giant slides, head first mat racer, lazy river, wave pool, swimming pool and sting ray.

· For kids:

Similarly for kids, the park offers numerous fun activities that make the kids love this park. Attractions for kids include wet bubble, tipping bucket, pirate's ship, funny bridge, Tarzan pool and children's water slide.

Eatables:

The Faliraki Water Park is not short of food and drink options. No matter what you like to have, either a meal or a cocktail, the park provides a number of bars and restaurants to let you enjoy your lunch or dinner. The amazing menus include hamburgers, sandwiches, hotdogs, salads, nuggets, Pizza and many more. Regarding beverages, you can have cold drinks, fresh juices, slush, alcoholic drinks and cocktails in a number of flavors. All the restaurants and bars offer its visitors a nice seating place with beautiful view of the park.

Safety:

The management of park ensures the safety of visitors. A team of life guards and medical technicians is always available. Moreover all the water sports activities are being supervised by experts so as to avoid any mishap. So, you can experience everything at your full potential without any risk or fear.

Other Amenities:

Besides all these attractions, the park offers its customers with a number of amenities. A huge parking place is present to facilitate the visitors to park their cars. Numerous phone booths, showers, toilets, lockers and vests are available so that the visitors may not have any kind of difficulty.

Faliraki Water Park is indeed a worth seeing place. If you want to enjoy your holidays to the best in Faliraki then do not forget to visit it with your kids.