Lardos Beach Rhodes Island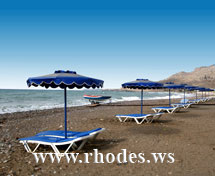 Lardos beach is one of the most remarkable Rhodes holidays resorts in the whole Dodecanese complex, being the only Rhodes beach awarded with the European Blue Flag.
The beach is situated on the southeastern coast of the Rhodes Island, in the peaceful bay of Lardos, after Pefkos village, 65 km from the Rhodes Town and very close to the popular Lindos beaches and village.
Although recently organized, the sand and pebbled beach of Lardos has absolutely everything for a funny and relaxing day under the sun of Greece.
You can lay on a rented sun bed and work on your tan, admire the beautiful sea scenery hiding from the sun under the shade from a colorful umbrella, swim in the crystal clear blue waters, or try your hand at the water sports, generously displayed at the Lardos beach.
Your kids will absolutely love the go-kart facility, the only place in the island of Rhodes where they can experience the speed!
Why don't you try it too?
Many beach tavernas invite you for a refreshing drink and a quick traditional Greek snack. Grab an ice-coffee and relax watching the idyllic atmosphere of the waves caressing the beautiful Lardos beach.
Don't miss an afternoon visit to the impressing Acropolis guarding the picturesque village of Lindos.
If you wish for a beach party, Gennadi village is only a short drive away, offering the best night atmosphere in the southern coast of the Rhodos Island, with live music and dancing till morning.
Looking for great facilities in an unspoiled scenery? Lardos Beach is definitely the spot for fun and sun in the island of Rhodes!