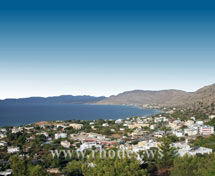 Lazy days, easy time, long sandy beach - you are thinking of course about the hilly village of Pefki, one of the most beautiful and popular in Southern Rhodes.
Only 3 km from Lindos, you can always combine the perfect relaxation in Pefki with an interlude of water sports and nightlife, or with a worthy ancient sightseeing in its much livelier neighbor village.
There are pine trees all over the village and this is where actually its name comes from ("pefki" is the Greek word for "pines").
Once in Pefki, you will think mainly "sand" and "sea". Free your mind, relax and get a perfect tan on this soft-sandy beach, with scattered pebbly areas, between the fresh-scented pine trees and the amazing blue water, here is the place to.
At the extreme end of the beach, you can find numerous rocky coves, ideal for swimming as the water here is shallow.
When you got enough of heat, hide under a sunshade at one of the many beach tavernas and bars, covering any choice of flavors and pockets. Go for a light lunch with fresh seafood, a traditional meal to last all evening, or simply order a Greek brandy and admire the view over the sea.
In evenings, there are few village bars to tempt you with a cocktail or two, and many souvenir-shops to take a look at. If in an active mood, take a taxi over the inviting tavernas in the much livelier Lindos.
The calm nature of Pefki makes it a popular spot with couples and families among the Dodecanese complex. There are people coming here from Rhodes Town only for the peaceful beach. There are plenty of hotels, studios and rooms to let, making the village a perfect spot for the flexibility and freedom of the self-catering Rhodes holidays.