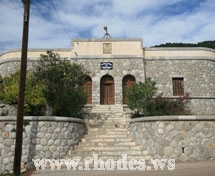 Guarded by an imposing medieval castle, Monolithos is a small and charming village lying in the southwestern coast of the Rhodes island, 73 kilometers from Rhodes Town.
Its name reminds of the giant isolated rock ("lithos" in Greek) the Castle is built on, watching over the Dodecanese waters since the 15th century.
The charm of Monolithos comes especially from its amphitheatre shape. The charming white stoned-houses with tile roofs and red geraniums, are climbing the hill to the medieval castle, so you have to stay prepared for a bit of hiking the traditional pathways when exploring this village.
Especially if you wish to visit the castle, think of it as an initiated trip - leave your car at the end of the village of Monolithos, and step on the pebbled path, with the sound of waves in your ears and the scent of the pine trees and the wild herbs thrilling your senses.
Your camera will capture excellent views, and for another dash of history, strike a photo of the church of Agios Panteleimon, within the boundaries of the castle.
When coming back, grab an ice-coffee at the small cafeteria just at the castle's foot, and relax in the company of the sea. There are few other small but inviting tavernas in Monolithos, and you can choose also from the hotels facilities, the coffee shops or the beach taverns to spoil your palate with a Greek specialty.
Very close to the village, you will discover the peaceful bay of Fourni, where you can get a complete relaxation lying on the sand and pebbles beach under the shady trees, or swimming in the crystal clear waters. If you are still in the mood of exploring, there are few caves nearby, waiting to be discovered.
The village of Monolithos surprises you at your Rhodes holidays with incredibly peaceful and picturesque landscapes of unspoiled beauty, difficult to find elsewhere on the island of Rhodes.