Kolimbia Beach Rhodes Island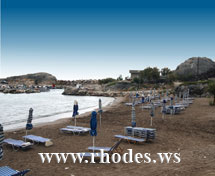 Kolymbia is one of the nicest beaches in Greece, perfectly suiting people looking for a well-organized spot, quiet, but still with a modern atmosphere. Kolimbia lays within a small cove, on the eastern coast of the Rhodes island, just 24 km away from its capital, the Rhodes Town.
This beach developed rapidly, due to its proximity to the well-known Epta Piges (seven springs), and today Kolymbia is one of the most popular family beaches is Rhodes. Kolimbia offers everything for a funny day on the beach – a wide range of water sports, colourful umbrellas and sunbeds, crystal clear waters inviting for a good swim, and a beautiful green landscape for your holiday photos to be just perfect! After a beautiful day at the beach, enjoy a Greek specialty or simply a refreshment drink at one of the beach coffee shops or cozy tavernas, or relax with a fishing session, as Kolymbia beach will offer you quite a good capture! In the evenings you will love a walk along the Eucalyptus street, to enjoy the nice scent of the tall trees covering both sides of the promenade.
If you feel like exploring a bit the surroundings, you must know that Kolymbia beach lies at half way between the most famous spots of the island of Rhodes, the picturesque village of Lindos with its amazing Acropolis, and the romantic capital, Rodos city. On the scenic road to Rodos you can stop at Afandou and try your hand on golf, as nearby the village is the Afandou Golf Center.
There are many things tempting you in the island of Rhodes, but Kolimbia beach offers everything you need for the calm and well-organized Rhodes holidays, the one you dreamed about!