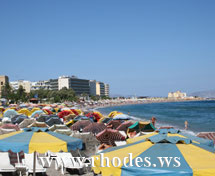 If you want to work on your tan and relax in a cosmopolitan atmosphere, then you should definitely go for the long Elli beach of Rhodes Town, one of the most frequented in the whole Dodecanese complex. Described by Lawrence Durell, the beach of Rhodos city as the finest beach in the whole Mediterranean, Elli lies between the Mandraki harbour and the Aquarium, in the northern end of the town.
Elli beach has everything you need to spend a perfect day under the sun – golden sands, sunbeds and colorful umbrellas to rent, inviting beach tavernas and fine restaurants, excellent seaside hotels for the little ones to splash in the pool, while you relax with a cocktail, and the atmosphere, attracting the photographers in their challenge to capture the colors and the perfect Rhodes beach panorama.
Although the most frequented of all Rhodes beaches, Elli beach never gets too crowded and you will find your perfect spot anytime. You will simply love swimming in the crystal clear and usually calm waters. The best beach spot is in front of the hotel Mediterranean, where you can also try your hands with the water sports, scuba diving or the beach volley.
If you feel lucky, you have the chance to challenge your chances inside the historic Hotel of Roses on the beach, as it houses the Luxurious Casino of Rhodes.
When dizzy from the sun, take a break and explore a bit the magical town of Rhodes, have a luxurious shopping session in the Turkish Quarter or enjoy a Greek specialty in the cozy tavernas from in the harbor area.
For a full day under the benefic sun of Greece, or simply for an evening break to walk along the beach enjoying the romantic atmosphere of Rhodes, Elli is a spot you should not miss during your Rhodes Holidays.