SOUND AND LIGHT IN RHODES Rhodes Island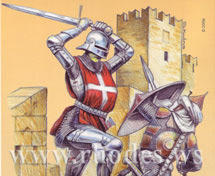 Sound and Light in Rhodes
Sound and Light of Rhodes is a unique and distinctive form of theatre. Performed without actors it consists of a confluence of stage action, speech, music and light with the architecture. Combined with light and architecture it is a kind of stereophonic radio. Yes a trip to Rhodes Island guarantees you a lot of fun and excitement.
It manages to recapitulate many centuries in a small time with the display of the historical monuments, current surroundings along with sound and light. This is one form of theatre that will add wonders to your family vacation as people of all age groups love it. It was first produced in Greece in the year 1959 and since then has been a huge tourist attraction. This first show was held on the Hill of Pnika describing the story of Parthenon.
The present "Sound and Light" show of Rhodes has been operating since 1961 and is the only one in Greece. This makes it imperative for you to include it in your places to visit when on Rhodes Holidays.
The script of the Show is based on stories, legends, myths as well as actual historical events related to a particular location. The text varies from poetry to prose engaging the audience in the depths of history of Rhodes. You will be mesmerized by the presentation of "Sound and Light" which happens in the specially designed site in the Municipal Garden of Rhodes.
The show depicts the uneven fight between the Turkish army under Suleiman the Magnificent against the people of Rhodes and Crusaders of St. John. The "Sound and Light" show takes to the era of knights and you are able to visualize a story of the distant past. The text is based on historical sources and gives the audience a captivating glimpse of the history of Rhodes and Greece.
Day by day the technology of the show improves and that helps in better depiction of the story making it more real and alive. The runtime of the show depends a lot on the language you are watching it in. It generally varies from 47 to 55 minutes.
If you are on a vacation to Greece or the island of Rhodes then this is one show that you can not afford to miss. After all in this historical town you have to keep you date with the past. So go ahead and take a plunge in this mystical and amazing experience which will complete your Greek vacation. A trip to Rhodes is all you need to refresh and take a fresh look at life.