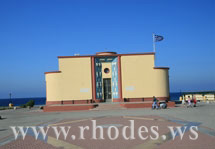 AQUARIUM
A trip to Rhodes Island is worth your while in many different ways. If you are a fond of aquatic life and just a swim in the beach isn't enough for you, then you can visit the very famous aquarium of RhodesTown. Located in the south of Mandraki, in the area of Niohori and also known as the Hydrobiological Station of Rhodes, it was built in 1935. Visit the Aquarium and your vacation to Rhodes would become even more fun and interesting.
In the year 1937 it started operating as a centre of oceanic research and in 1963 it was also turned into a Museum. Every year about 200.000 tourists visit the Aquarium in Rhodes. It is a great place to take all your family to. Your kids will be ecstatic watching the marine life and your friends and older relatives would take joy in knowing more about them.
Among the various species of marine life you can witness species such as:
1. Anthozoa,
2. Molluscs (gastropods and cephalopods),
3. Various species of crabs
4. Echinoderms
5. Fish of various kinds including Labridae, Dasyatidae, Sparidae, Mullidae, Centrachantidae, Scaridae, Scorpaenidae, Siganidae, Mugilidae, Balistidae, Triglidae and Monacanthidae
6. Sea turtles
You can also take delight in the various exhibits displayed here including sharks, sea turtles, toothed whales and Mediterranean monk seals. It is also a house to various Mediterranean organisms like the sea flowers, reefs, octopuses, clams and, decapods. These are just some of the things that make your visit to the aquarium and your vacation to Rhodes worth while.
The Rhodes Aquarium gives visitors a chance to get close and personal with the sea life of the Eastern Mediterranean. It is located in the basement of the building and its open water circulating system (40 tanks with a capacity of 75000 liters) give an impression of aquatic life underwater.
The aquarium is managed and run by the National Centre for Marine Research which focuses its research in the areas of oceanography, fisheries and inland waters. This research is aimed at conservation and restoration of the natural habitat of the aquatic life in the Mediterranean.
With the aquarium, tourists in Rhodes get a chance to experience underwater life and know more about them and thus can contribute in their conservation. This is not just a fun filled activity but a learning experience as well and is a place you should definitely not miss.
As you come and visit the beautiful island of Rhodes, take your kids on a journey to underwater life and make their day. It will surely be an experience of a lifetime that they will not forget.
Memorable Rhodes holidays are waiting for you so go ahead and book your flight. You will surely get the best of any vacation from a trip to Rhodes.